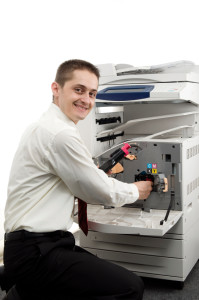 Is your printer not working?
Downtime on printers, plotters and copiers can be extremely costly.  You depend on your machines to print, scan and copy your time sensitive documents on a daily basis.  But when your machine is growing, how many people and companies does it affect?  A lot.
Let us help you immediately with just one phone call.
Whether your printer or plotter is jamming, creasing pages, noisy, experiencing poor print or copy quality, or any of the other problem associated with high volume printing, we can help you.
Our authorized service technicians are standing by, and ready to come to your place of business with the proper experience, tools and knowledge to diagnose and fix whatever may be causing your printing issues.
We operate in the entire Greater Vancouver Area so give us a call to find out how we can help you today.